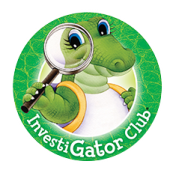 Give Us a Buzz
Samplers
Contact us

 for a complete component list and to request samples.
InvestiGators
About
Privacy Policy
Welcome to www.investigatorclub.com and www.robert-leslie.com.  We are committed to protecting the privacy of our customers. This policy (the "Privacy Policy") reflects this commitment and sets forth the main principles of our collection and use of the information identifying users of www.investigatorclub.com and all associated websites [www.investigatorkidsclub.com, www.dillystreehouse.com, www.robert-leslie.com] and mobile applications (collectively, "Website").  Please read our Privacy Policy carefully, as it applies each time users access the Website and use its services, regardless of whether or not they make a purchase. The Website is operated by Robert-Leslie Publishing LLC, a limited liability company of the State of Delaware. The words "we" and "us" in this Privacy Policy refer to Robert-Leslie LLC. The words "user", "you" and "your" in this Privacy Policy refer to users of the Website.  By using, accessing, making purchases and/or registering on the Website, you accept the terms of this Privacy Policy.
WHAT TYPE OF INFORMATION DO WE COLLECT FROM YOU AND HOW WE COLLECT IT?
The information we collect from you when you use the Website may be (i) personal information, which is data that personally identifies you, or (ii) aggregate information, which does not personally identify a user, but rather pertains to your use of the Website and your account activity (for example, number and times of log-ins, most frequently visited pages, IP addresses, etc.).
The types of information we collect include the following:
Information you provide us. When you enter information on our Website by registering for an account, subscribing to our newsletter, following us on social media, making a purchase or contacting Customer Service, for example, you give us access to certain personal information, which may include your name, email address, address, credit card information, and phone number.
Information we collect automatically. We automatically collect some information from the devices you use to access the Website and to perform activities on your account, such as device type, location information, IP address, webpage traffic, and access time. Automatic means of data collection include cookies and web beacons.
Cookies
Our Website uses various types of cookies and similar technologies.  A cookie is a small file that is sent to the browser and saved on your device when you visit a Website like www.investigatorclub.com.  While cookies do not contain intelligible information, they allow us to link a user to the personal information provided by such user through the Website.  We use analytical cookies, installed by both us and third party providers, primarily to personalize your navigation experience by remembering your preferences with respect to services provided and products purchased through the Website (for example, the language and currency you set).  We treat the results of these analyses anonymously and exclusively for statistical purposes.  Our Website also uses third party marketing and profiling cookies, which are aimed at creating user-related profiles in order to send commercial messages that meet the preferences shown during Website visits or to provide you with our commercial offers on affiliated Websites (retargeting). We do not have control over the information provided through third party cookies and we do not have access to this data. This information is entirely controlled by third parties as described in the respective privacy policies.
Web Beacons
Web beacons (or pixel tags) are clear graphic images placed on a webpage or email message used to track users' behavior, by recording certain actions such as opening webpages and navigating through the Website.  Web beacons and are often used together with cookies.  In connection with the use of web beacons, we may collect non-personally identifiable information such as your IP address, type of browser, URL of the page were the beacon is placed and the time when such page is viewed.  We may also retain third-party service providers to assist us in tracking users' response to web beacons.
Information we receive from other sources. We may collect information from third parties to whom you have provided your information and given consent to such third parties' sale, rental or transfer of such information (for example, through social media sites); we may also integrate the information we collect with publicly available information.
HOW DO WE USE THE INFORMATION COLLECTED?
Your information is processed by us and by third party service providers using primarily electronic means. Your information may also be processed by us and by third parties in connection with operations ancillary to the use of the Website and its services, including in connection with the purchase of products through the Website.
Generally, the information is used and processed with respect to the following services:
Registration or subscription to services offered by us, such as programs suggested through www.investigatorclub.com, our newsletter, sharing your likes with friends registered on the Website and through your social media accounts;
Order fulfillment and related activities;
Management of payments, including anti-fraud control in case of payment by credit/debit card;
Responding to requests and communications initiated by you (e.g. Customer Service);
Displaying customized content on the Website, based on your navigation history, to enhance the users' experience;
For marketing purposes, sending commercial communications through various channels, both electronic (e-mail, text messages) and traditional (snail mail, telephone);
For profiling purposes and in order to improve your Website experience, sending commercial proposals that match your interests (for example, through the use of third party cookies); and
Providing technical assistance with respect to your use of the Website.
WITH WHOM DO WE SHARE YOUR INFORMATION?
We will not sell or otherwise disclose your information except as described in this section.
Affiliated companies. We may share your information with companies affiliated with us, their licensees and joint venture partners, which may only use such information in accordance with this Privacy Policy.  Affiliated companies may be located outside the United States.
Third-party service providers. We may retain and share your information with third parties for processing with respect to certain activities (for example, in connection with IT services, logistics services, shipping of products, payment services, customer support or direct marketing services). Third parties who perform these operations have been appropriately selected and may only use the information provided to them to perform their function and for no other purpose.  Please contact our Customer Service through the appropriate section on www.investigatorclub.com by selecting "Privacy" as the topic on our contact form if you would like to receive a full list of third parties who may receive your information.
Business transfers. In the event there is a change in the corporate structure of Robert-Leslie including, without limitation, by merger, consolidation, sale, liquidation, or transfer of substantial assets, we may, in its sole discretion, transfer, sell or assign information collected on and through the Website, including, without limitation, personally identifiable information and aggregate information concerning users and customers, to one or more affiliated or unaffiliated third parties.
Compliance with law and legal process. We may disclose users' information when required to do so by law or legal process or in response to a request from law enforcement authorities.  We may also provide your information where necessary for the defense of legal claims or for fraud prevention purposes.
WHAT INFORMATION IS REQUIRED IN ORDER TO USE THE SERVICES OF THIS WEBSITE?
Disclosure of your information to us may be optional or mandatory.  We will inform you if the information we ask you to provide is necessary or optional by marking with an asterisk (*) the information that is required.  Mandatory information may include your email address, name and shipping and/or billing address, and other information needed to process payments of any order made. Failure to provide us with required information will prevent you from using some services offered on our Website, such as completing purchases, registration for certain services, receiving the newsletter or contacting Customer Service.
Similarly, if you set your browser to block or delete cookies, we cannot guarantee that you will have access to all the features and services offered by the Website, for example viewing images of the product(s) you are in the process of purchasing and completing your order.
WHERE IS YOUR INFORMATION STORED AND FOR HOW LONG?
Your information will be collected and stored on servers located in the United States. By providing us with your information you consent to its use and processing in the United States and its transfer to any other nation for the same purposes, regardless of the country from which you access the Website. IN ADDITION, IF YOU ARE LOCATED OUTSIDE THE UNITED STATES, YOUR INFORMATION WILL BE TRANSFERRED TO THE UNITED STATES, THE LAWS OF WHICH MAY BE DEEMED BY OTHER COUNTRIES TO HAVE INADEQUATE DATA PROTECTION.
HOW WE PROTECT YOUR INFORMATION?
We use a number of security measures and procedures to help protect the information you share with us.  On www.investigatorclub.com, every purchase is made with the use of encrypting systems such as Secure Socket Layer (SSL) software.  We restrict access to information only to employees, contractors and agents that need to process information for the purposes set forth above.
While we make reasonable efforts to process and store your information in a secure manner, we cannot guarantee the security of data transferred over the Internet and you do so at your own risk.
HOW YOU INQUIRE AS TO WHAT INFORMATION IS STORED AND HOW CAN YOU CHANGE, UPDATE OR REMOVE IT?
You may update, correct and remove your personal information at any time and free of charge by contacting Customer Service through the appropriate section on www.investigatorclub.com by selecting "Privacy" as the topic on our contact form.  For security purposes, we may ask that you identify yourself and the information you wish to access, change or delete.  We will comply with your request as soon as reasonably practicable.  Some of your personal information may need to be retained by us as required by law or for recordkeeping purposes.  Please note that by withdrawing consent to our use of some of your information you may no longer be able to access certain services offered on the Website.
You may also direct any questions or concerns regarding this Privacy Policy to the email above.
HOW DO YOU OPT-OUT OF OUR NEWSLETTER AND EMAIL COMMUNICATIONS?
You may unsubscribe from any our marketing communications by clicking on the "Unsubscribe" button included in all our marketing communications or by contacting our Customer Service through the appropriate section on www.investigatorclub.com by selecting "Privacy" as the topic on our contact form.
HOW DOES THE WEBSITE INTERACT WITH THIRD PARTY SITES?
Our Website contains links to third party Websites which may not have any connection to us. We do not operate, control, endorse or guarantee any third party Websites or their content, nor does our Website perform any monitoring operations on third party Websites' content. We are not responsible for any practice followed by such third party Websites with respect to the collection and processing of information of their users. When you access any third party Website through a hyperlink posted on the Website, please carefully read the privacy policy and other policies of such third party Website. Our Privacy Policy and other policies do not apply to any third party Website.
We provide hyperlinks to third party Websites only for the convenience of our users. By providing hyperlinks to third party Websites, we do not recommend that our users access such third party Websites, nor do we provide any guarantee as to the services or goods provided and sold by them to Internet users. YOU AGREE THAT YOUR USE OF ANY THIRD PARTY WEBSITE IS AT YOUR SOLE RISK AND WITHOUT WARRANTIES OF ANY KIND BY ROBERT-LESLIE PUBLISHING, EXPRESSED, IMPLIED OR OTHERWISE, INCLUDING, BUT NOT LIMITED TO, WARRANTIES OF TITLE, FITNESS FOR A PARTICULAR PURPOSE, MERCHANTABILITY OR NONINFRINGEMENT. UNDER NO CIRCUMSTANCES ARE WE LIABLE FOR DAMAGES ARISING FROM ANY TRANSACTION BETWEEN YOU AND ANY THIRD PARTY WEBSITE OR FOR ANY INFORMATION APPEARING ON THIRD PARTY WEBSITES.
WHAT INFORMATION IS COLLECTED FROM OR SHARED WITH SOCIAL MEDIA SITES?
When accessing the Website through a third party social media site and/or application, you consent to our access to some of your information from your social media account, such as your name, email address, profile picture, location, friend list, posts or likes. Furthermore, additional non-personally identifiable information may be transferred to us when interacting with a social media site, for example content viewed through the third party social media site.
Some of the services offered on the Website are integrated with social sharing features, through which you may share some of your activities on the Website or "like" certain products through your social media accounts. Depending on your settings on your social media accounts, these activities may show up on your profile and be visible to your friends/followers and/or the public.  Please refer to the privacy policies of the relevant social media sites for information concerning their collection and processing of information.
RIGHTS OF CALIFORNIA RESIDENTS
Pursuant to California Civil Code Sec. 1789.3, California resident users are entitled to know that they may file grievances and complaints with the California Department of Consumer Affairs, 400 R Street, STE 1080, Sacramento, CA 95814; or by telephone at (916) 445-1254 or (800) 952-5210; or by email to dca@dca.ca.gov. For more information about protecting your privacy, you may wish to visit: www.ftc.gov.
If you are a resident of California, you may request that we do not share your information with certain affiliates or third parties providers for marketing purposes, and/or you may inquire as to how we have shared your information with third parties providers for marketing purposes.  In connection with such request, we will identify the types of information shared and provide you with the names and addresses of the third parties with whom the information was shared.  Please contact our Customer Service through the appropriate section on investigatorclub.com by selecting "Privacy" as the topic on our contact form.
CHILDREN'S RIGHTS
While we do not sell products or services for purchase by children, we do sell children's products or services for purchase by adults. If you are under 18, you may use the Website only with the involvement of a parent or guardian.  In accordance with the Federal Children's Online Privacy Protection Act of 1998 (COPPA), we do not knowingly collect, solicit or use personal information of children under the age of 13 provided without parental consent, and we will delete any such information should we become aware that a user under the age of 13 has registered without verifiable parental consent.
HOW WILL YOU KNOW WHEN WE UPDATE OUR PRIVACY POLICY?
We may amend or update all or part of this Privacy Policy at our discretion. A notification will be published on the Website's homepage as soon as a new or amended Privacy Policy is adopted. Therefore, you should access this section regularly to check on the publication of the most recent and updated Privacy Policy. If you have provided your email address when registering for an account, subscribing to our newsletter, making a purchase or contacting Customer Service, we will notify you via email if material changes are made to this Privacy Policy.
APPLICABLE LAW
This Privacy Policy is subject to the applicable laws of the State of Delaware and the United States, regardless of the location of the users. Any claims or complaints must be filed in the United States in the City of Chicago, State of Illinois.
Effective Date
This Privacy Policy is effective as of September 1, 2018.